Landmark Cinemas: FREE Medium Popcorn Coupon (Until Mar 2)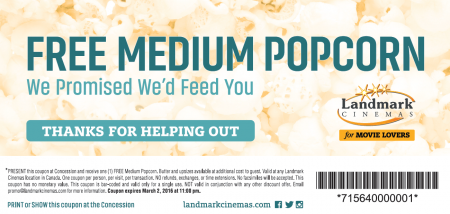 Landmark Cinemas recently sent out a short online survey. After you fill out the survey, you get a FREE Medium Popcorn Coupon! Simply print the coupon and present it at the concession stand. You're able to upsize the popcorn and/or add butter for extra costs.
The coupons is valid until March 2, 2016 at all Lanmark Cinemas in Canada. There's a limit of one coupon person. I used the coupon last night and can verify it works (PS: Deadpool was awesome!).
It's a generic coupon which means anyone can use it as often as they want (even though the fine print says it's single use). I filled out the online survey a couple different times and got the same bar-code coupon everytime.
Plus, you can also get a FREE Medium Popcorn coupon by simply signing up for Landmark Cinemas's e-Newsletter! You'll find the email sign-up box on Landmark Cinemas' homepage.
Click here to print Landmark's Free Medium Popcorn Coupon.
Click here to find a Landmark Cinemas location near you.
Enjoy the freebie!