A&W Canada: $1 for Any Size Coffee (Until March 15)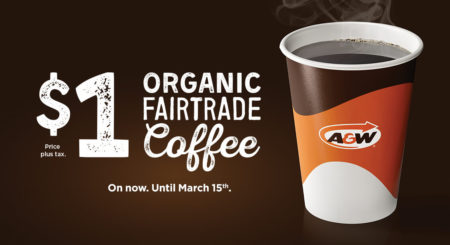 A&W Canada is offering a $1 coffee deal.
For only $1 plus tax, enjoy any size Organic Fairtrade Coffee.
The offer is available until March 15, 2022.
At A&W, we only serve Organic Fairtrade† coffee. This means the coffee plants are grown using organic practices that minimize soil erosion, optimize biological productivity and promote a healthy ecosystem. Best of all, the farmers are fairly compensated. So our custom blend of coffee doesn't just taste good, it's doing some good too.
Click here to visit A&W's website for more details.