How to Get Calgary Flames Playoff Tickets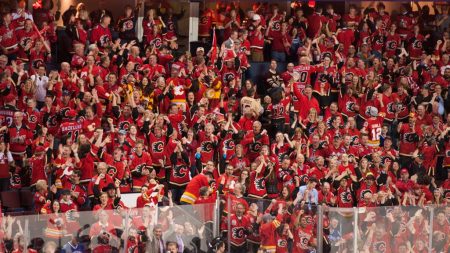 Your Calgary Flames are heading to the 2017 Stanley Cup Playoffs! YAHOO!
There's going to be a HUGE demand for playoff tickets. Tickets will be tough to get. If you get the opportunity to attend a playoff game, go! The C of Red is goes crazy during the playoffs.
The Flames have announced that approximately 3,000 tickets per game for the first round of the 2017 Stanley Cup Playoffs will be made available for purchase through the following outlets:
1. Flames Playoff Ticket Purchase Draw
Tickets will be available for the general public to purchase through the Flames online email registration draw.
Click here to register for the Flames Playoff Ticket Purchase Draw and follow the instructions on the top of the screen. Once a playoff email registration is complete, the submitted address will automatically be entered into the ticket purchase draw for each playoff game.
Winners will be notified by email a minimum of 72 hours before the first playoff home game and will be given a 24 hour window to purchase tickets. There is a two ticket per game limit. Tickets will be available in multiple price levels for each game.
Unclaimed tickets from the playoff ticket purchase draw will made available to purchase through Ticketmaster.ca prior to the first game.
2. Sport Chek
Sport Chek is offering fans the opportunity to purchase Flames playoff tickets in the Sport Chek Zone through an online ticket registration draw on their Facebook page. To enter simply visit the Sport Chek Facebook page and leave a comment on the contest post featuring the hashtag #MyBetter.
Each randomly selected winner will be sent a unique code giving them the ability to purchase two tickets for a pre-selected game in Round 1 for $200 (including all taxes and fees) through Ticketmaster.ca. For more information or to view full registration details, click here.
3. Co-op
Fans will also be able to enter to win the opportunity to purchase Flames playoff tickets at individual Co-op stores. Winners will be drawn at random throughout the playoffs. For more information visit calgarycoop.com/events-tickets/tickets.
Missed Out?
If you weren't lucky enough to get tickets through one of the methods above, you'll likely have to resort to buying tickets on the secondary market. Prices will be priced well above face value (supply and demand).
Here's the best and most popular secondary options to buy Flames tickets:
1. Flames NHL Ticket Exchange
This is the Flames Official Ticket Exchange. Tickets are verified, secured, and guaranteed by Ticketmaster. This is the place where most season ticket holders will list and resale their tickets. Most tickets are available for instantly delivery which means you'll instantly be emailed the tickets as soon as you buy them. You can then either print the PDF tickets or display the tickets on your smartphone. Prices are in Canadian dollars. There's a 15-20% service charge at checkout on top of the listed prices.
2. Facebook Group: Flames Tickets for Flames Fans
Request to join the Flames Tickets for Flames Fans Facebook Group. It has close to 7,000 members. It's a safe and great place to buy and sell tickets. Tickets are not guaranteed by anyone, but it's fairly safe to use because all accounts are linked to a Facebook profile. Tickets could not be listed for above face value during the regular season. There's currently a poll to see if they'll allow people to sell playoff tickets for above face value.
3. TiksTiks
TikTiks is a local Calgary based company that believes in a better way to buy and sell tickets with each other. TikTiks is a fan-to-fan secondary ticket marketplace for sports fans. Their mobile platform (iOS and Android) allows for sellers to post their tickets in the app for free, and for a constant stream of hockey tickets available for Buyers to purchase easily and securely. The people who started TiksTiks also started the Flames Tickets for Flames Fans Facebook Group.
4. Calgary Puck Ticket Exchange
CalgaryPuck.com is the largest Flames fan forum. Check out their Ticket Exchange for tickets. The site does not allow members to sell tickets for above face value which means you likely won't see a lot of playoff tickets listed for sale there. If you do, contact the seller asap because they likely won't last long.
5. Kijiji
Kijiji is the most popular online classified site in Calgary. I've bought and sold lots of stuff on Kijiji. There's lots of ticket listed for sale kijiji.ca/b-calgary/flames-tickets/k0l1700199. I've never had any issues on Kijiji, but I've heard lots of horror stories or people getting ripped off. Be smart whenever you buy something on Kijiji. If you see something that's too good to be true, it likely is. If you see a listing that interests you, contact the seller to ask questions and arrange a way to complete the deal. I only buy from local sellers and give cash in person. I suggest only buying tickets from sellers who have hard copy tickets or are able to transfer  their tickets directly into your Flames or Ticketmaster account. I would never buy regular printed paper tickets because they can easily print multiple copies. It's usually a good idea to meet the seller at their home or work (gives you added security you can easily track them down if something bad happens). There's no transaction fees or hidden costs, but tickets are not guaranteed and as secure. There's always a chance the seller could screw you.
5. StubHub
StubHub is the largest online ticket exchange. StubHub guarantees all of the tickets list on their site. The problem with StubHub is all prices are in USD (CAD/US exchange rate sucks right now) and they charge a 15-20% service fee on top of the listed prices.
I hope this helps increase your chances of snagging some tickets. Best of luck!
Go Flames Go!