Wendy's: $3 for Dave's Single Burger (Until Oct 30)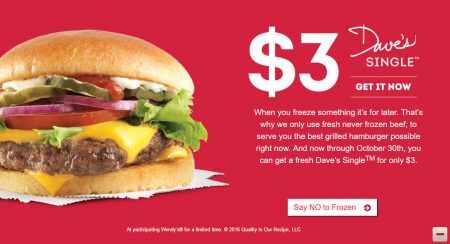 For a limited time, Wendy's restaurant is offering Dave's Single Burger with Cheese for only $3 plus tax. The offer is available at partiicpating Wendy's until Sunday, October 30, 2016.
When you freeze something it's for later. That's why we only use fresh never frozen beef; to serve you the best grilled hamburger possible right now. And now through October 30th, you can get a fresh Dave's Single for only $3.
Click here to visit Wendy's website for more details.
Click here to find a Wendy's restaurant near you.