SPUD.ca: Fresh Organic Produce – FREE $40 Off towards Groceries (May 1 – June 30)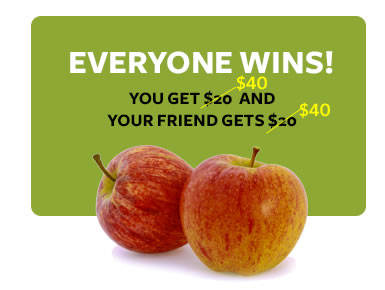 SPUD.ca (Sustainable Produce Urban Delivery) delivers local, organic produce and groceries right to your door.
For a limited time, get double the savings at SPUD during their 2X Refer a Friend rewards program. From May 1 to June 30, 2014, you can get $40 off your purchase if you sign-up with my referral link or enter my discount code CRCAL-LAURAY. As a bonus for referring you, Spud will also give me a $40 credit! That's a combined $80 worth of free groceries for the both of us! After you sign-up for an account, you'll get your own refer link and get a $40 credit for every friend that you refer!
I've used SPUD in the past and highly recommend it.
Get fresh and organic produce straight from the farm – delivered to your door!
A great way to feed your family local and organic veggies, fruits and more.
Offer the 100% SPUD satisfaction guarantee.
Free local delivery
No commitment, no contracts
This offer is only available for new SPUD customers only with a minimum $75 purchase.
Click here to sign-up for a free SPUD account now or for more details about this offer.