HOT DEAL: Dealfind Product – $59 for a 24 Piece Makeup Brush Set and a 78 Colour Makeup Set with Eyeshadow, Blusher and Smudge Palette, Including Taxes and Shipping (Save $194 or 77% Off)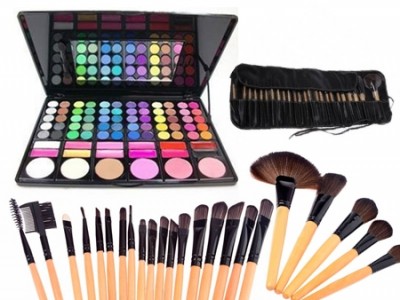 DealFind Calgary Hot Deal of the Day: Dealfind Product – $59 for a 24 Piece Makeup Brush Set and a 78 Colour Makeup Set with Eyeshadow, Blusher and Smudge Palette, Including Taxes and Shipping (Save $194 or 77% Off)
Buy now for only $59
Value $253
Discount 77%
You Save $194
DealFind has a fantastic deal today. For only $59, you'll get a 24 Piece Makeup Brush Set and a 78 Colour Makeup Set with Eyeshadow, Blusher and Smudge Palette, Including Taxes and Shipping (Up to $253 Value)! That's a saving of $194 or 77% Off! You can stock up on the deal as you may buy unlimited vouchers for personal use and as gifts & the vouchers will NEVER expire!
This is a limited 1-week only sale that will expire at midnight on Monday, July 30, 2012. Click here to buy now or for more information about the deal. Quantities are limited so don't miss out!
Why You Should Buy:
Terrific package offer brings you everything you need to create hundreds of gorgeous looks
24-piece brush set which includes fan-shaped, foundation, eye shadow, bevel eyebrow and lip brushes, plus eye shadow sponge brush and lash comb
Amazing variety of 78 vibrant colours to choose from with this superb palette
Includes both matte and shimmer shades to fit your style; great for shadow, liner, mascara and more
Compact, double-stacked case fits neatly into purse or bag
What You Should Know:
No expiration date. Buy unlimited vouchers for yourself and unlimited as gifts. Package includes a 24 piece makeup brush set and a 78 colour makeup set with eyeshadow, blusher and smudge palette. Please allow 3 to 5 weeks for order processing and shipping from the date this deal closes. Please call 1.800.990.6771 for inquiries. Subsequent to redemption of a voucher all refunds and customer satisfaction issues shall be managed by Widget Love directly and shall be governed by applicable Widget Love policies and conditions. For return policy and procedure, visit widgetlove.com and click Return Policy and Procedure. Final sale – no refunds unless damaged or defective. Does not ship to PO Boxes or Rural Routes. Taxes and shipping included. No cash back or credit. Not valid with other offers. Redemption occurs at time of purchase.
Dealfind Product
Complete your purchase by selecting the "Buy" button and entering your shipping information. Please refer to the "What you should know" section for the estimated shipping times.
Ensure your makeup options are plentiful thanks to this exclusive package offer. Take advantage of a dazzling, 78-colour palette that helps you achieves a vibrant look for any occasion, from fancy to fun, and this isn't just limited to prettifying your peepers. When you scoop up this deal, you'll also get a terrific makeup kit that's complete with an assortment of tools for a number of touch-up needs, stocked with quality brushes for eye liner, lip, foundation, bronzer, and many more, all to make it a cinch for you to show off your enchanting looks. Seize this opportunity today and enjoy everything necessary to put on your best face, whenever you need.
Click here to buy now or for more information about the deal. Don't miss out!