Javeq – $13 for a FLIP & FOLD Jr. and Sr. Laundry Folder Combo Package (71% Off)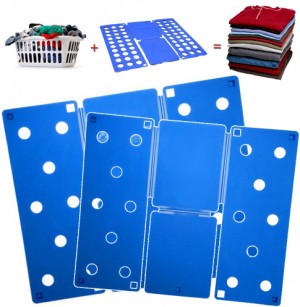 DealTicker Calgary Daily Deal of the Day: Javeq – $13 for a FLIP & FOLD Jr. and Sr. Laundry Folder Combo Package (71% Off)
Buy now for only $13
Value $45
Discount 71%
You Save $32
This is a limited 1-week only sale that will expire at midnight on Wednesday, June 13, 2012. Click here to buy now or for more information about the deal. Quantities are limited so don't miss out!
HIGHLIGHTS
Cut your laundry folding time by 80%!
A great way to organize a cluttered closet or wardrobe
High quality, durable plastic
2 easy to use folding boards
Fold T-shirts, short- and long-sleeve shirts, collared shirts, pants & more in no time
Get more room and space out of your closet and drawers
Ventilated windows help reduce static cling
Crisp and tight, uniform-sized folds in less than 5 seconds!
Sr. Size: 59cm x 70cm
Jr. Size: 48cm x 40cm
Makes a great gift!
THE FINE PRINT
MAY BUY UNLIMITED VOUCHERS FOR PERSONAL USE AND UNLIMITED AS GIFTS
Voucher entitles holder to a combo pack: 1 FLIP & Fold Jr. and 1 Sr. Laundry Folder
Voucher is valid for one year (Expires: June 7, 2013)
To redeem voucher, please visit http://www.javeq.com/DealTicker_c_59.html 24 hours after deal ends on DealTicker
Enter voucher code during checkout
Taxes are not included and are payable to Javeq upon redemption of voucher
Shipping is not included and is subject to a flat rate of $7 anywhere in Canada
Please allow 4-6 weeks of shipping
No cash value/cash back
Cannot be combined with any other offers or promotions
The Company
Javeq
TO REDEEM VOUCHER, PLEASE VISIT THE LINK PROVIDED IN THE FINE PRINT SECTION
http://www.javeq.com/
This one's really cool. A brand new & high quality invention, this nifty nouveau home gadget lets you finally start cleaning up the clutter in your closets and drawers! These magic folding boards make organizing your laundry an absolute cinch! Fold practically anything in no time at all: T-shirts, short- and long-sleeve shirts, collared shirts, pants and more! You can fold items to a uniform size in less than five seconds, and the 2-in-1 combo extraordinaire ensures you have the perfect fold no matter what sized clothing you're stacking (there's an adult and a junior folder included). This amazing system makes clothes flatter and neater, giving you more room in your closet, drawers and suitcases. Ventilated folder windows help reduce static cling because the windows increase folding speed, allowing for a crisp, tight fold that helps guard against wrinkles. Made out of high quality and durable plastic, cut down your laundry time and make hurriedly folded clothing crumples a thing of the past!
Click here to buy now or for more information about the deal. Don't miss out!