KFC: Today Only – $2 for Chicken Sandwich (Sept 16)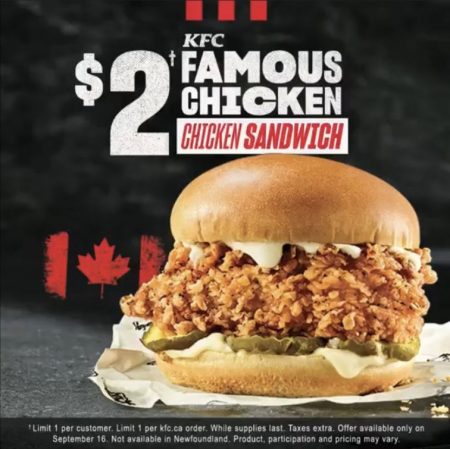 KFC Canada is having a 1-day only promotion today.
Get KFC's Famous Chicken 'Chicken Sandwich' for only $2 plus tax. It normally retails for $7.49.
Available on Wednesday, September 16, 2020 only. There's a limit of 1 per customer while supplies last.
Triple breaded, buttermilk marinated chicken fillet, drizzled with buttery garlic oil, 3 sweet pickles, double mayo on a potato bun.
Looks like KFC is offering this deal to counter Popeye's chicken sandwich which recently became available in Canada.
Click here to visit KFC's website for more details or to place an online order.