IKEA: $19 Flat-Rate Home Delivery On Orders Over $350 (Oct 14)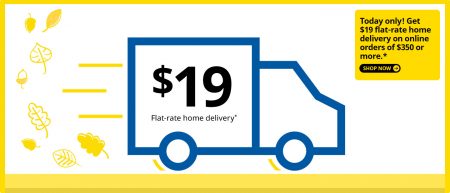 Today only, IKEA is offering $19 flat-rate home delivery on online orders over $350.
The offer is available on online-only orders on Monday, October 14, 2019.
I'll be taking advantage of this deal. Gonna buy a bed frame for my daughter. Went to IKEA last month to buy the bed frame, but was too big to fit in my SUV and IKEA's regular delivery rate was very expensive.
$19 flat rate home delivery offer valid from Sunday, October 13th, 2019 at 11:00pm ET to Tuesday, October 15th, 2019 at 3:00am ET, on online orders for home delivery to valid shipping addresses in Canada only, excluding Yukon, Northwest Territories and Nunavut. Minimum purchase of $350 required to qualify, excluding taxes, delivery and any other services. Offer cannot be combined with any other promotional offers. Offer does not apply to orders placed in store or at Pick-up and order points, or Click and Collect orders placed online and picked up in store, at a Pick-up and order point or at a Collection Point. Excludes Express delivery. Offer does not apply to previous purchases or gift card purchases. While supplies last. No rain checks. Not all products are available online.
Click here to visit IKEA's website for more detail.