Dairy Queen: Miracle Treat Day – Buy a Blizzard & Help Kids (Aug 9)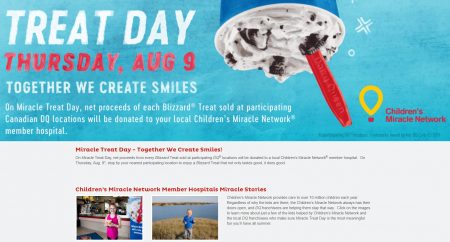 Today (Thursday, August 19, 2018) is Miracle Treat Day at Dairy Queen Canada.
On Miracle Treat Day, net proceeds from every Blizzard Treat sold at participating DQ locations will be donated to your local Children's Miracle Network member hospitals.  On Thursday, Aug. 9*, stop by your nearest participating location to enjoy a Blizzard Treat that not only tastes good, it does good.
Every day, 4,900 children enter a Children's Miracle Network member hospital for treatment. Help participating DQ restaurants help local kids by purchasing a Blizzard Treat on Thursday, August 9, 2018.
I know this isn't a "deal", but thought it was a great cause that's worth sharing. If you've been craving a DQ Blizzard, today's the day to go out and get one.
Since 1984, DQ and Children's Miracle Network member hospitals have partnered to provide life-saving treatments to kids from across the U.S. and Canada.  To date, more than $125 million has been raised through donations from DQ Fans and franchisees, all of which stays local to fund critical treatments and healthcare services, pediatric medical equipment and charitable care.

Children's Miracle Network provides care to over 10 million children each year.  Regardless of why the kids are there, the Children's Miracle Network always has their doors open, and DQ franchisees are helping them stay that way.  Click on the images to learn more about just a few of the kids helped by Children's Miracle Network and the local DQ franchisees who make sure Miracle Treat Day is the most meaningful fun you'll have all summer.
Click here to visit Miracle Treat Day website for more details or to find a participating DQ store near you.