Tim Horton's: Free Coffee with Tim Horton's Mobile App (Until Oct 8)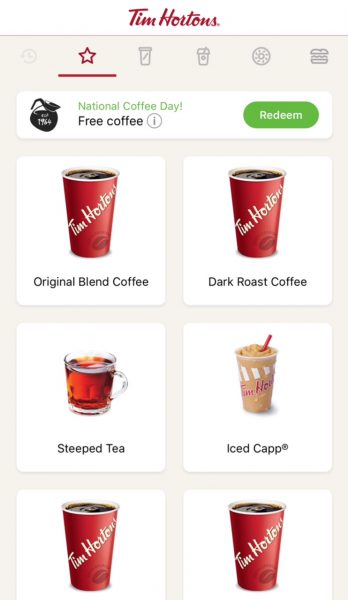 Freebie Alert!
Download Tim Horton's mobile app and get a Free Coffee! Valid for 1 any size Original Blend, Dark Roast, Decaf or Iced Coffee until October 8, 2017. There's a limit of 1 per customer.
The Tim Hortons Mobile App is available to download on the Apple App Store and Google Play Store. The offer can only be redeemed through mobile ordering when you download the Tim Horton's App and activate your account (or if you already have the app and an activated account). To activate your account, you must load a minimum of $10 into your account.
After you download the App, you'll see a "National Coffee Day! Free Coffee Green Redeem" banner near the top. TIm Horton's will give away up to 1 million free coffee's during this promotion.
Click here to read the official release and for more details.
Click here to download Tim Horton's iOS mobile app.
Click here to download Tim Horton's Android mobile app.