ATCO Energy & ENMAX: Free $100 Electricity Bill Credit!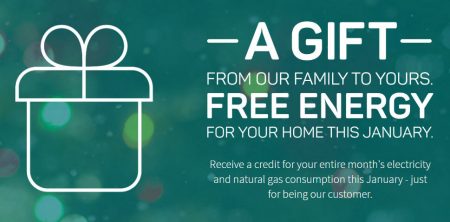 ATCO Energy is offering their customers free energy for the month of January! You'll receive a credit for your entire month's electricity and natural gas consumption this January – just for being a customer!
If you're an ENMAX customer, call ENMAX at 310-2010 or 1-888-793-2988 and tell them you heard about the ATCO offer and ask them if they can match it. I called ENMAX and had to wait about an hour before a customer care rep answered my call. They gave me a $100 credit as soon as I mentioned the ATCO Energy offer. The rep was very friendly and said their phone has been ringing off the hook all day and they've been matching the offer for everyone. She also took a look at my plan and offer new plans with a much lower rate. I was very satisfied and thankful. An hour call saved me over $100.
I told my friends and family about it and know at least a dozen people who got credits (worked for everyone)! They'll take a look at your last January's bills and offer credits based on what you spend (savings ranged form $70-$120).
Times are tough in Alberta. A $100 goes a long way especially during this time of the year. Thanks ATCO Energy and ENMAX for offering/matching this generous offer.
This is a limited time offer so take advantage of it while you can.
Good luck! Let me know if it worked for you or not by sharing your experience in the comments.