Starbucks: Happy Hour – 50% Off Any Frappuccino Blended Beverage (May 3-15)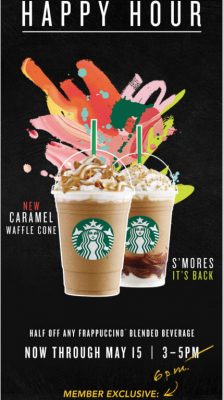 Starbucks' popular Frappuccino Happy Hour is back!
Save 50% off any Frappuccino blended beverage during Happy Hour from 3 to 5pm (till 6pm for Starbucks Rewards Members).
The offer is available now and goes until May 15, 2016.
Enjoy half off any Frappuccino® beverage from 3­-5pm, May 3­-15th. Try the new Caramel Waffle Cone Frappuccino® blended beverage, or get an old favourite, the S'mores Frappuccino® blended beverage.
Click here to visit Starbucks' website for more details.