A&W Canada: FREE Sriracha Teen Burger!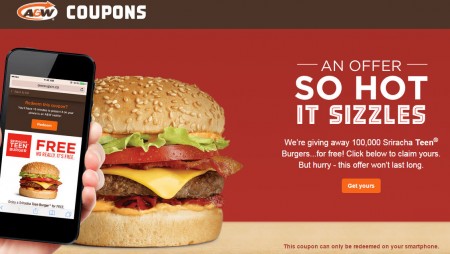 A&W Canada is giving away 100,000 Sriracha Teen Burgers for FREE! This coupon can only be redeemed on your smartphone. Log in or sign-up to awcoupon.ca to redeem a free Sricha Teen Burger now. There's a limit of one coupon per customer and one per visit. Offer expires August 9, 2015.
Hurry, this is a limited time offer and likely won't last long.
You can also get a FREE A&W Root Beer coupon if you sign-up for their newsletter list.
Click here to visit A&W's website for more details.
Enjoy the freebie!