Reminder: Harlem Globetrotters Game – $25 for a Ticket at Scotiabank Saddledome on Thursday, April 23, 2015 at 7 p.m. (Up to 41% Off)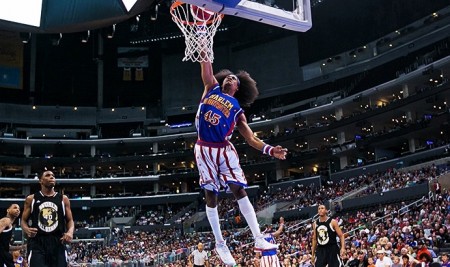 Reminder Update: I originally posted about this deal yesterday. Here's a reminder that it's still available to buy today. At the time of this post, they have already sold over 75+ vouchers so don't miss out!
Today's Groupon Vancouver Daily Deal of the Day: Harlem Globetrotters Game: $25 for a Ticket at Scotiabank Saddledome on Thursday, April 23, 2015 at 7 p.m. (Up to 41% Off)
Buy now for only $
25
Value $42.45
Discount Up to 41% Off
Save $17.45
With their distinctive, red, white, and blue candy-striped uniforms, the Harlem Globetrotters are instantly recognizable on most courts and maddeningly difficult to guard during pickup games in barber-pole factories. Witness basketball at its most colorful with this GrouponLive deal.
The Groupon Deal
One G-Pass to a Harlem Globetrotters game
When: Thursday, April 23, 2015 at 7 p.m.
Where: Scotiabank Saddledome
Door time: 6 p.m.
Ticket values include all fees.
Ticket and Seating Options:
$25 for one G-Pass in rows 5–11 of section 211, 213, 224, or 228 ($42.45 value)
$33 for one G-Pass in rows 1–4 of section 211, 213, 224, or 228 ($55.20 value)
How G-Pass Works: Your G-Pass will be ready to print 48 hours after the deal ends. Print the G-Pass and use it to enter the venue directly; you won't need to redeem at will call. Due to security restrictions, G-Passes cannot be redeemed through the Groupon mobile app. Discount reflects the merchant's current ticket prices – price may differ on day of event.
This is a limited 5-day only sale that will expire at midnight on Sunday, April 19, 2015.
Click here to buy now or for more info about the deal. Quantities are limited so don't miss out!
In a Nutshell
Ball-spinning antics abound as this world-famous exhibition basketball team dazzles in a comic and athletic performance
The Fine Print
Expires Apr 23rd, 2015. Limit 8 per person. Valid only for option purchased. Use for admission at Scotiabank Saddledome on 4/23. Refundable only on day of purchase. Must purchase together to sit together. Doors open 1 hour prior to game time. Merchant reserves the right to substitute closer seat assignment. Holder assumes all risk in connection with the event and releases Groupon, Globetrotters, the venue and their affiliates from any related claims. Not redeemable on mobile app. Merchant is solely responsible to purchasers for the care and quality of the advertised goods and services.
Harlem Globetrotters
http://www.harlemglobetrotters.com/
555 Saddledome Rise SE
Calgary, AB T2G 2W1
+14037774646
Since forming in the 1920s, the Harlem Globetrotters have continued to entertain millions of parents, children, and general basketball admirers with a trademark blend of athletic precision and razzle-dazzle showmanship. For the team's 2015 tour, a rotating roster of Globetrotter favorites—including three female players—takes to the hardwood each game. Spectators might spot veteran guard TNT sharing a behind-the-back pass with dunker Thunder, who also holds the world record for longest basketball shot at 109 feet and 9 inches. The Globetrotters might also present a study in contrasts with 5-foot-2 Too Tall and 7-foot-4 Stretch, the team's tallest member.
This season, the team faces off against its classic nemesis, the Washington Generals, whose head coach was also a member of the last Generals team to have beat the Globetrotters—more than 40 years ago. Each game gives the Globetrotters' jovial jocks a chance to extend their decades-long dominance as youngsters laugh along and witness classic routines of unconventional passing and sudden transmutations of water into confetti. Over the years, similar antics have followed the Globetrotters around the world, including to 122 countries and territories and all six continents on which basketballs grow naturally. The Globetrotters' extensive travels haven't gone unnoticed: they're one of the few teams to earn a spot in the Naismith Memorial Basketball Hall of Fame as ambassadors of the sport.
Click here to buy now or for more information about the deal. Don't miss out!