WagJag: $45 for a Coppertone Sunscreen Variety Pack + Free Shipping (55% Off)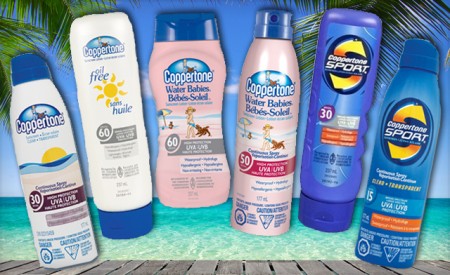 Today's WagJag Daily Deal of the Day: $45 for a Coppertone Sunscreen Variety Pack (a $100 Value)
Buy now for only $45
Value $100
Discount 55% Off
You Save $55
Every beach bag needs three essentials: a towel, sunscreen and a fluffy summer novel, hollowed out so no one will see that you're really reading your cell phone user's manual. Fill your bag with sun-protective essentials with today's WagJag: $45 for a six-piece variety pack of Coppertone sunscreen including Free Shipping (a $100 value). That's a savings of 50% off!
What you get
A six-piece Coppertone sunscreen variety pack including:
One Coppertone Sport SPF 30 (237ml)
OneCoppertone Sport Spray SPF 15 (177ml)
One Coppertone Continuous Spray SPF 30 (177ml)
One Coppertone Oil Free SPF 60 (237ml)
One Coppertone Water Babies SPF 50 (177ml)
One Coppertone Baby Mousse SPF 60 (177ml)
This is a limited-time offer. Quantities are limited so don't miss out!
Click here to buy now or for more info about the deal.
Offer Details
This product will be mailed directly to the address indicated at checkout
Product will arrive within 4-6 weeks of deal closing date (June 17)
Free Shipping included
No additional charges. No cash value. No cash back
Why we love it
Protect your skin from the sun
Trusted sunscreen provider for over 65 years
Water Babies is paraben-, PABA- and dye-free
Oil-free sunscreens are unscented
Sport sunscreens dry in seconds with a cooling effect
Your constant companion under the sun, Coppertone sunscreen products come in a wide range of formulas for every skin type and summer activity. Sensitive types can watch oil-free lotions for face and body vanish into skin with no pore-clogging or greasy residue. Active adults love the sweat-proof spray of Sport sunscreen, with its ease of application and no-run formula. Low-SPF dry oil is a light, delicately scented mist for sun worshipers, and Water Babies' light-as-air mousse glides over the skin of the youngest beach tykes to moisturize and protect.
For more than 65 years, sun protection has been Coppertone's number one priority. The brand's extensive line of sunscreens are trusted to let the whole family get the most out of summer while staying safe and healthy.
Click here to buy now or for more information about the deal. Don't miss out!