LAST CHANCE: Groupon.com – Exclusive Promo Code – Extra 10% Off Any Local Deal (June 4-5)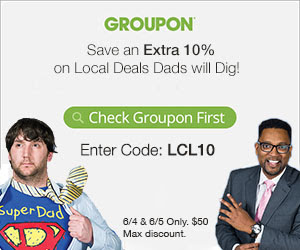 UPDATE: This promo code was very popular and has reached it's maxed limit and is no longer available. Next time you see a Groupon promo code, take advantage of it as soon as you can before it sells out.
Last Chance Reminder: I originally posted this yesterday. Here's a reminder that the promo code expires tonight. This is a very popular deal. A lot of people have taken advantage of this promo code so don't miss out!
Groupon.com is offering an exclusive affiliate promotional code!
You can save an extra 10% off one Local deal on Groupon when you enter the promotion code LCL10 at checkout! This special offer is available for 2-days only from June 4-5, 2014. This is going to be a very popular offer so don't miss out! Click here for a direct link to see all of Groupon's local deals near you. The promo code works on any local deal in any city. It excludes product deals and getaways deals.
There's a limit of one code per customer with a maximum discount of $50. Hurry, only a limited amount of people can use the code so take advantage of the offer while you can!
This is a hot deal because Groupon rarely offers promo codes and most of their deals is already discounted 50-95% off. You'll find lots of amazing deals with the extra 10% off.
10% off 1 Local Deal
Code: LCL10
Valid: 6/4 – 6/5
Limited Quantities Available.
Click here for a direct link to see all of Groupon's local deals near you.
Click here to view all of Groupon's latest deals.