Shop.ca: Earn 15 Aeroplan Miles per $1 Spent (Until May 16)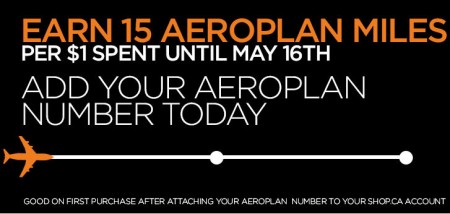 Shop.ca and Aeroplan have teamed up to give Canadian's Aeroplan Miles on every purchase at Shop.ca
If you collect Aeroplan points like I do, you'll be glad to hear you can earn 15 Aeroplan Miles per $1 spent on Shop.ca! This special offer is only available until May 16, 2014. After May 16th, you'll earn 1 Aeroplan point per $1 spent on Shop.ca.
If you don't collect Aeroplan points, you should definitely start now. It's a great way to earn points to free flights and merchandise. Let me tell you how you can start now and get 30,000 free points!
The offer is good on your first purchase after attaching your Aeroplan number to your Shop.ca account.
Click here to start shopping on Shop.ca now or for more details about this offer.
Click here to read how you can easily get 30,000 Free Aeroplan Miles!