Marble Slab Creamery: 20% Off Ice Cream Cakes (Order by June 8)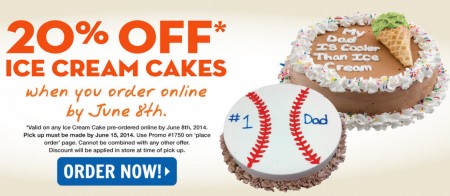 To help celebrate Fathers Day, you can save 20% off Ice Cream Cakes at Marble Slab Creamery if you pre-order online by June 8, 2014 and pick up by June 15, 2014. You`ll need to enter the promo code #1750 on the `place order` page to get the deal. The discount will be applied in-store at time of pick up.
Click here to visit Marble Slab Creamery`s website for more details about this offer.