Why All Trips Become "Groupon/TeamBuy Trips"!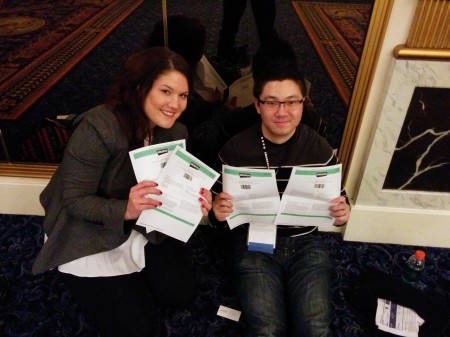 I like to travel a lot, and Las Vegas is one of my favourite destinations.  As a deal hunter, I like get the best value for my money.  I book flights when there's a seat sale, I book and re-book hotels if there's a better promotion, and check out Groupon and TeamBuy every day to see what kind of deals are available.  I've coined this as my "Groupon/TeamBuy Trips", where I try to fill all my meals and activities with Groupon and TeamBuy vouchers, and Las Vegas is probably the city with the most options available.
During my most recent 6-day Vegas trip last week (January 2014) to attend a conference for bloggers and internet marketers (Affiliate Summit), I had the privilege of meeting up with representatives from Groupon, and our conversation eventually lead to whether I used Groupons or not.  This is when I reached into my bag and brought out a stack of Groupons I purchased, printed, and planned on using for the trip!  Here's the breakdown of what me and a friend used during my last trip and how much we saved!
Restaurant and Buffet Deals:
Total Spent: $210.99 ($411.98 value)
Total Savings: $200.99
Activity and Entertainment Deals:
Total Spent: $307 ($777 value)
Total Savings: $470
By planning all my meals and activities ahead, we managed to save $670.99!  The best part of all of this is most of the restaurants and activities are highly rated, and we would've eaten at most of these places, and done most of these activities at full price anyways!
So whether you're trying to find things to do in your local city, or travelling to Las Vegas, Vancouver, Toronto, LA, New York, San Francisco or wherever, try to plan ahead and see what Groupon or TeamBuy has to offer. They've got lots of great deals in every city and can save you 50-95% off! Hopefully, you can save as much as I did on your very own "Groupon/ TeamBuy Trip"!
Click here to check out all of Groupon's latest deals.
Click here to check out all of TeamBuy's latest deals.
Cheers,
Raymond Lau