McDonald's: 20-Piece Chicken McNuggets Fan Pack for $13.99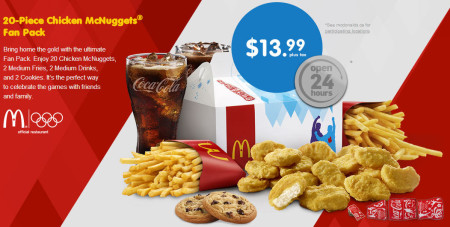 To celebrate the 2014 Winter Olympics, McDonald's Canada is offering a 20-Piece Chicken McNuggets Fan Pack for only $13.99! This is a limited time offer. You don't need a coupon or anything to take advantage of the deal. The deal is live at participating McDonald's restaurants across Canada.
The Fan Pack includes all of the following:
20 Chicken McNuggets
2 Medium Fries
2 Medium Drinks
2 Cookies
Limited Edition Collectors Pins
As soon as I heard about the deal, I called my wife and told her to get it for dinner last night. It was delicious! I love McDonald's Chicken McNuggets.
Don't forget about McDonald's printable coupons (2 Can Dine, Meal Deals, BOGO, etc…). The coupons are available until February 2, 2014.
Click here to visit McDonald's website for more details about this offer.