KFC: New Printable Coupons (Until Mar 2)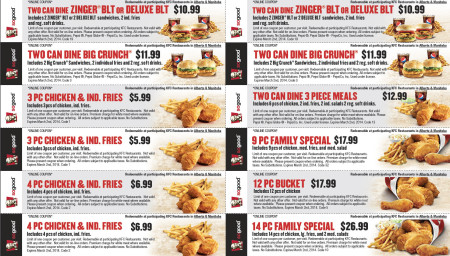 KFC just released a bunch of new printable/downloadable coupons! The coupons are valid now until March 2, 2014.
The coupons vary by province, but here's what you can expect to find:
Two Can Dine Big Crunch for $11.99
3 Piece Chicken and Fries for $5.99
4 Piece Chicken and Fries for $6.99
Two Can Dine 3 Piece Meal for $12.99
9 Piece Family Special for $17.99
12 Piece Bucket for $17.99
McDonald's, A&W and Harvey's also all recently released new printable coupons too.
Click here to visit KFC's website to print the coupons.